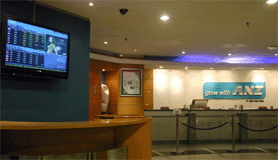 ANZ-Panin Bank has operated dynamic digital signage to complete the Bank's main room facilities. The main information on display is foreign exchange and time deposit, while another kind of information is dynamic slide show that alternately displays images or movie clips containing product and service information provided by the bank. To optimize this system, scrolling texts and images conveying news are popped in at the bottom of the screen.
SENTRAmedia was selected by ANZ Panin Bank for its ability to meet the needs for future dynamic financial board. SENTRAmedia has replaced the old manual ways of conveying foreign exchange rate and time deposit information to the customers in the Bank's main room.
SENTRAmedia is installed in the CPU that is placed in the control room, while the display panel is using 42" LCD monitor in the Bank's main room. Because of the far location between the CPU and the display panel, GTronix video distributor, which is capable of distributing contents up to 300m through CAT5 cable, is used. SENTRAmedia is prepared to process contents on a real time basis, so that content updating, either ones in the main office or ones in branches, can be done easily and quickly.
SENTRAmedia – dynamic digital signage system
SENTRAmedia is a product of Gemanusa's that is specifically developed to meet the needs for dynamic digital system. This system uses GSquare framework multimedia from Gemanusa. With this framework, the needs for digital signage solutions up to enterprise scales can be fulfilled without too much effort.
ANZ-Panin Bank
ANZ-Panin bank is an Indonesian bank which is owned in partnership by ANZ Australia and Panin Indonesia. Currently, the bank operates in Jakarta and Medan.
PT Gemanusa Sentra Teknologi
Established in 2005 as an IT company, Gemanusa provides Software Development, System Integration, and IT Consultancy services. PT Gemanusa Sentra Teknologi always makes the best effort to be the front-runner of software innovator. For that purpose, one of the steps Gemanusa has taken is creating a product of multimedia engine software: SENTRA-media.