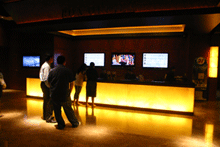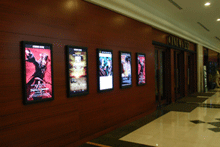 Cineplex XXI, previously known as Cineplex 21, is the biggest chain cineplex in indonesia. Cineplex XXI in Plaza Senayan Jakarta is one of the cineplexes owned by Cineplex XXI which is equipped with premium facilities and is very much visited by movigoers, especially the upper-class. On the launching day of the Cineplex XXI, the manageme
nt chose SENTRAmedia as a dynamic digital signage system to display multimedia contents on poster application, schedule and video trailer. This digital signage will replace poster papers previously used. The application in this location will become a model for Cineplex XXI in other locations.
In this cineplex area, 13 display panels are installed using 42" and 52" LCD monitors. Each display on the display panel is controlled by SENTRAmedia to enable each monitor to display each own function, such as e-poster, e-schedule, or e-video trailer. With SENTRAmedia Content manager, content switches can be done quickly and easily.
SENTRAmedia – dynamic digital signage system
SENTRAmedia is a product of Gemanusa that is specifically developed to meet the needs for dynamic digital system. This system uses GSquare framework multimedia from Gemanusa. With this framework, the needs for digital signage solutions up to enterprise scales can be fulfilled without too much effort.

Cineplex XXI
Previously known as Cineplex 21, Cineplex XXI is the biggest chain Cineplex in Indonesia. Its branches are spread all over Indonesia.
PT Gemanusa Sentra Teknologi
Established in 2005 as an IT company, Gemanusa provides Software Development, System Integration, and IT Consultancy services. PT Gemanusa Sentra Teknologi always makes the best effort to be the front-runner of software innovator. For that purpose, one of the steps Gemanusa has taken is creating a product of multimedia engine software: SENTRA-media.