Dynamic Client-Server Structure
With the Client-Server Structure, the integration truly becomes flexible and can be customized for all sizes while adapting to the existing CTI and network structure.
Stackable and Scalable
The administrator can monitor, search, play and configure multiple loggers with a single InterLogger Console, located at different sites simultaneously, while backing up independently to anywhere the network is available. This makes the structure truly flexible and scalable and will protect your initial investments. InterLogger provides all your growing and dynamic business needs.
Multiple Class of Service
COS (class of service) is a combination of administrative authority for recording channel configuration and system administration
Central Management Solution
The optional central management solution is available for remote monitoring on multi-sites. The multi-site management allows central back-up, search-and-play, and live-monitoring by channel.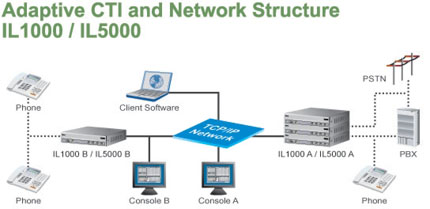 Robust Administrative Software
InterLogger is designed with the customers in mind. Via TCP/IP, all system configurations and log/live monitor can be done anywhere with a few clicks at your finger tips.
Incorporating the most modern GUI, allowing the user to quickly adapt to the interface without any difficulties.
All records can be accessed via TCP/IP protocol, and searched by multiple attributes at the same time.
System keeps the complete logs with System Name, Channel Number, Extension Number and User, Caller ID, Time and Date, Duration, and etc. Using wisely the combination of these searching keys will bring the managing jobs easier than ever.
System administrators and the phone users are able to access the logs with the accessibility granted by their respective ranks.