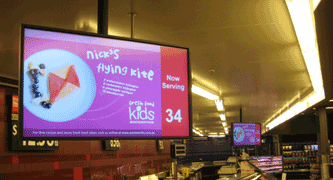 SENTRAmedia is a Dynamic Digital Signage System, in the form of a computer software that is specifically designed to manage messages (clips, pictures, scrolling texts, and live videos) derived from digital format data. These messages are processed and visualized in an attractive output display of an electronic screen.
SENTRAmedia is very suitable for applications in: corporate communication, advertising, tracking, monitoring, voting, polling, and digital signage for lobby rooms, VIP rooms, hotels, shopping malls, and public places.
SENTRAmedia can be used to convey one-way information: from the content providers/ publishers to target audience or to conduct two-way communication, which enables the application to receive responses from its target audience.
SENTRAmedia system relies on PC capacity to process input data (static or dynamic) and displays the process result (output), which visualizes more graphic effects produced automatically by SENTRAmedia graphic controlling modules
Input data on SENTRAmedia can be:
Raw data, retrieved directly by SENTRAmedia system through a computer or internet network or feed line data
Computer tables, derived from database system, excel files, or CSV files
Multimedia data, in the forms of multimedia files (clips, pictures, video files, animation files, sounds, etc.), and video sources (from TV, DVD players or live video channels)

SENTRamedia Enterprise

Dynamic table, Dynamic Scrolling Text, Chart Generator, Embedded System Navigation, Real time data capture

Price
Call Our Sales

SENTRamedia Profesional

Output : PAL/NTSC, Resolution 1024x768, Transition effects, SENTRA-media subscriber, SENTRA-media Content Manager

Price
Call Our Sales


FEATURES

SENTRA-media

PROFESSIONAL

ENTERPRISE

PLAYER

1

Appearance

Software

Software

2

Requires PC

Yes

Yes

3

Output : PAL/NTSC

Optional

Optional

4

Max VGA Resolution

1024x768

1280x1280

5

GScript commands:
Dynamic table
Dynamic Scrolling Text
Chart Generator
Embedded System Navigation
Real time data capture
Event management objects
Page controlling


No

Yes

6

Transition effects

Yes

Yes

7

SENTRA-media subscriber (client application)


Yes

Yes

8

Integration to external system

No

Yes

CONTENT MANAGER & SCHEDULER

1

SENTRA-media Content Manager

Yes

Yes

2

SENTRA-media Scheduler

Yes

Yes

3

Page Templates

Yes
( 20 templates )


Yes
( 50 templates )

4

Sound, Picture, Video

Yes
(multi)


Yes
(multi)

5

Run on Windows 32

Yes

Yes

PUBLISHER

1

Default number of Clients

5

5

2

TCP/IP

Yes

Yes

PRICING

1

Stater kit

Call

Call

2

Additional player

Call

Call